Substitute Teacher Training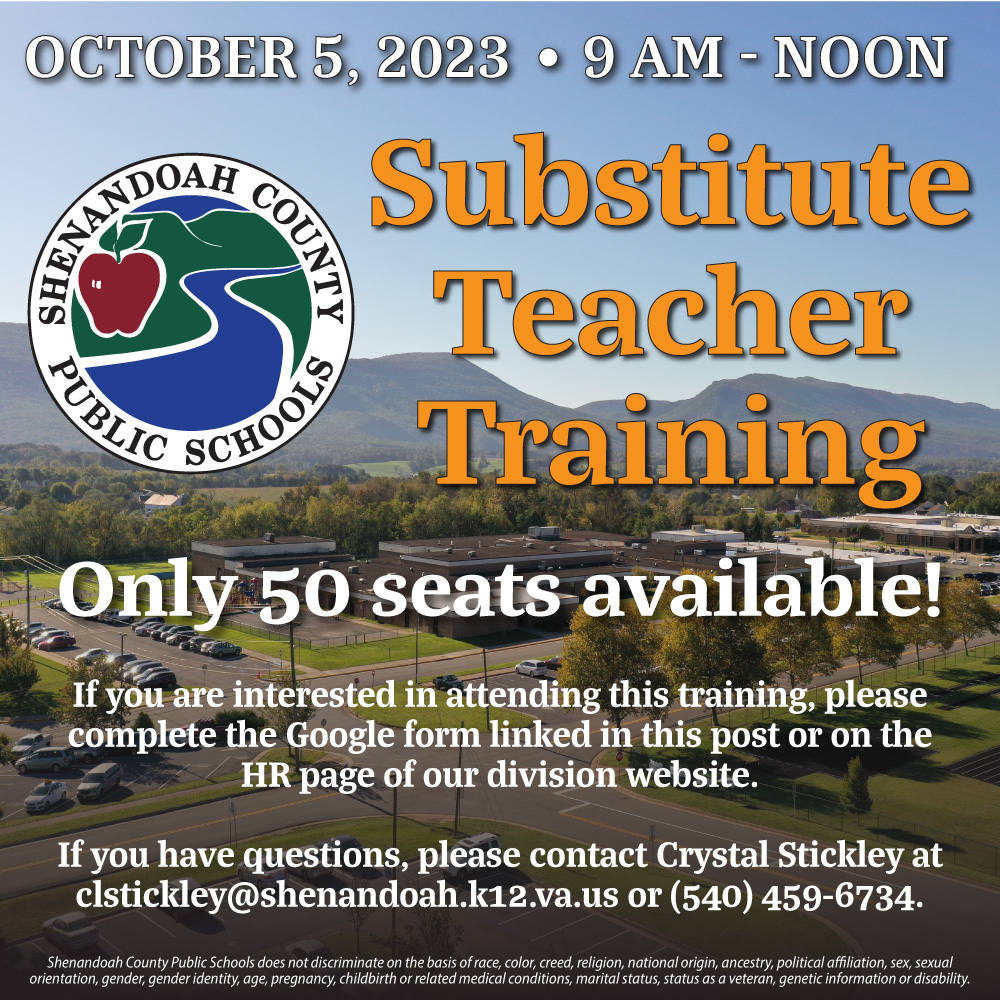 Substitute Teacher Training will be held on October 5, 2023, from 9 am until noon.
If you are interested in attending this training please complete this form. https://forms.gle/​Ls81KapS58ZdeKyt5
Participants will receive more information by email two weeks prior to the date of the training.
There will only be 50 seats available. Enrollment will be accepted in the order they are received.
If for any reason you are unable to access this form to enroll please contact Crystal Stickley at clstickley@shenandoah.k12.va.​us
Substitute Teaching Information
Complete Online Application
Shenandoah County Public Schools accepts applications at all times for future openings. If you do not currently see a position you are interested in, please apply to the "Future Positions" listing for the type of job you are interested in. Your application will remain active for one year.
If you are currently employed by SCPS and are interested in a coaching position, please contact the principal of the building with the vacancy. You do NOT need to fill out a classified job application.
Shenandoah County Public Schools
The Shenandoah County Public Schools does not discriminate on the basis of race, color, national origin, sex, disability, or age in its programs or activities. Specific concerns or allegations by students, employees, or others may be referred to Linda Hodges, Director of Human Resources, or Dave Hinegardner, Assistant Superintendent of Administrative Services and Strategic Planning. Concerns related to disabilities may be referred to Jennifer Stratton, Director of Student Services and concerns related to 504s may be referred to Katherine Hudson, 504 Specialist.
600 N. Main Street, Suite 200 Woodstock, VA 22664 540-459-6222
Sorry, but there was nothing found. Please try different filters.